HypeFury Review - AI Tweets, Threads + Engagement tools
Full review of Hypefury - Let AI help provide thoughtful tweets & threads. Gain new followers on Twitter + Increase engagement.
Hypefury is a great app for managing all your tweets and threads, especially when it comes to scheduling your content and engagement on Twitter.
I started off using HypeFury right after I did a trial of Tweet Hunter.
I had 1s1 followers from the work I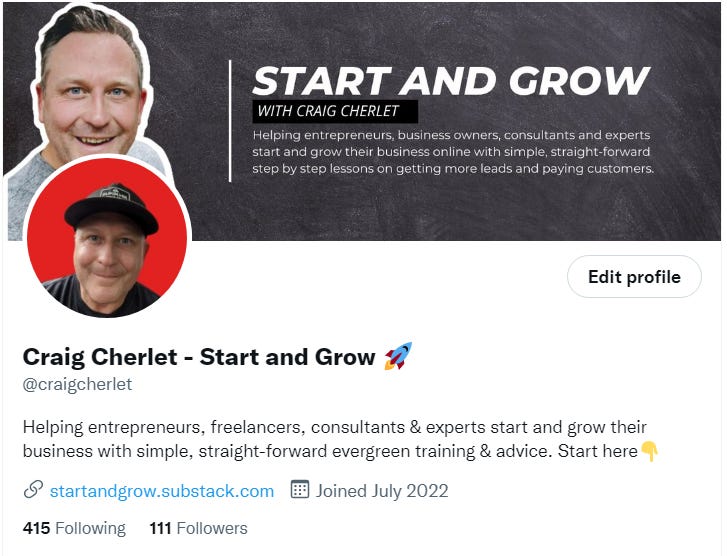 I did a full 2 Part review. You can check them out here.
HypeFury's core value propositions
Sell products on auto-pilot - If you have an email list or are selling a product, Hypefury will automatically promote them under your popular tweets.
Never get lost for words again - Our inspiration box will prompt you with new ideas whenever you need a creative boost.
Learn what works and what doesn't - Understand what gets your audience clicking by taking a glance at our comprehensive yet simple analytics dashboard.
Onboarding process
The onboarding process was very well done with a simple Onboarding Checklist.
The welcome dashboard provided tasks to complete to get setup fast and easy.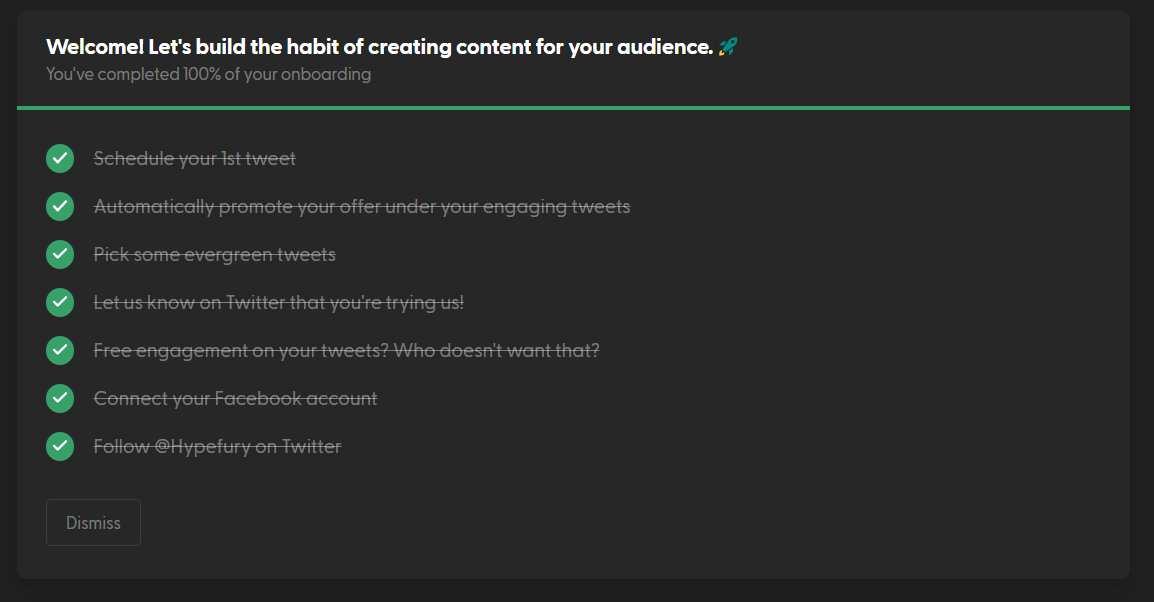 The process is simple to follow and guides you through scheduling a tweet, posting a tweet and setting up some evergreen tweets for the app to queue for the future.
I also connected my Facebook Page and will test posting there as well.
The Create Dashboard
Right away, Hype Fury gives you inspiration at your finger tips.
It has scanned through your Twitter profile to find the content you are already posting and serves up some fresh tweets for you to reuse edit and post as your own.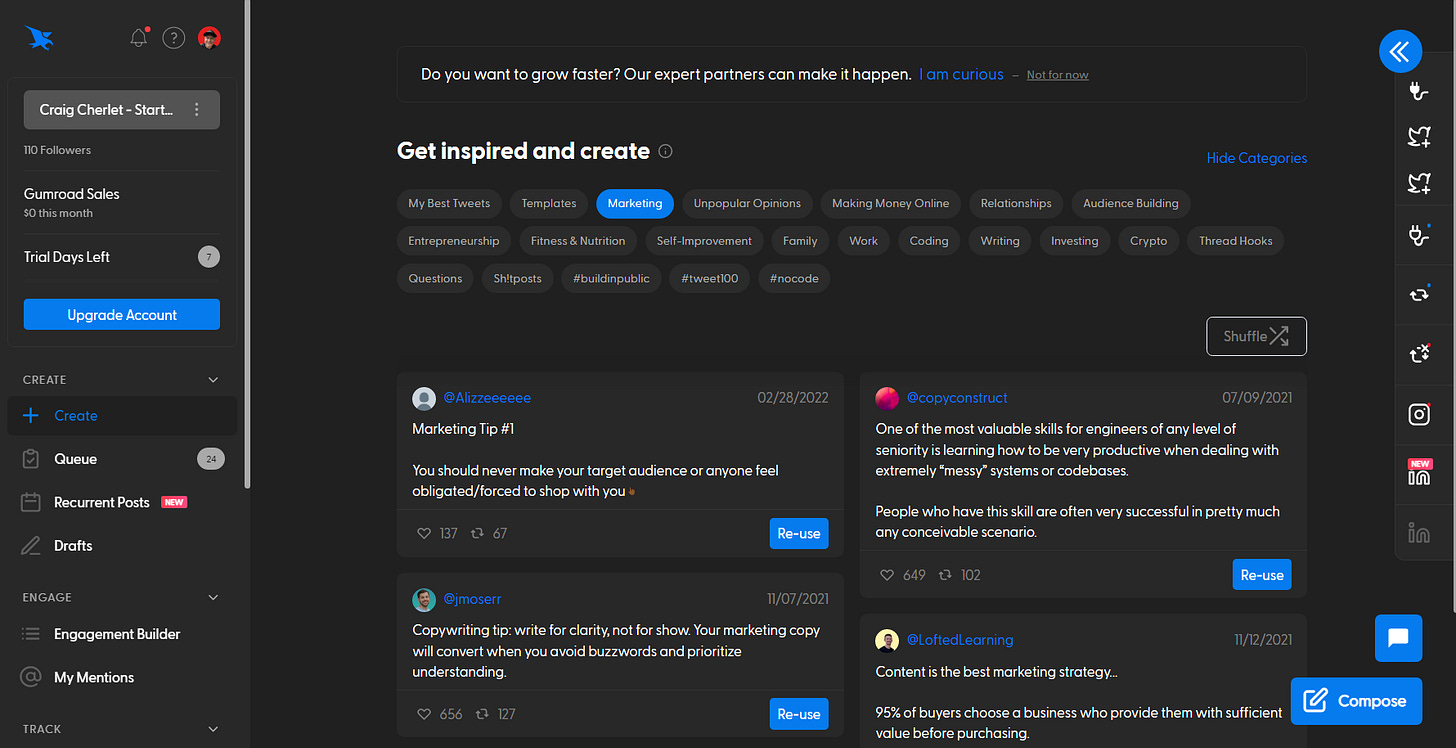 The Queue Dashboard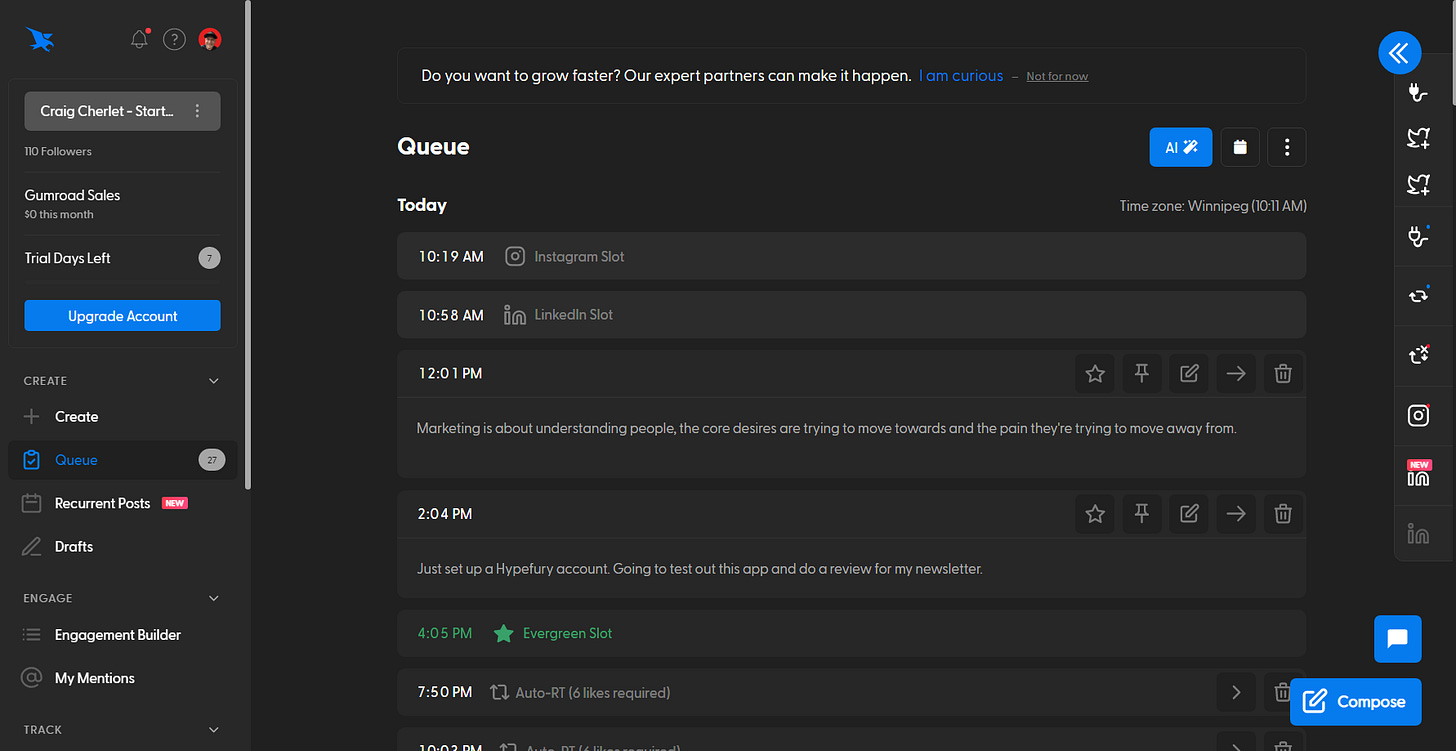 The first time I logged back in after I setup my account, I got this screen.
HypeFury was pulling old tweets from my account and presenting me the for review and to add to the queue of future tweets.
Right away I'm loving this. Great time saver.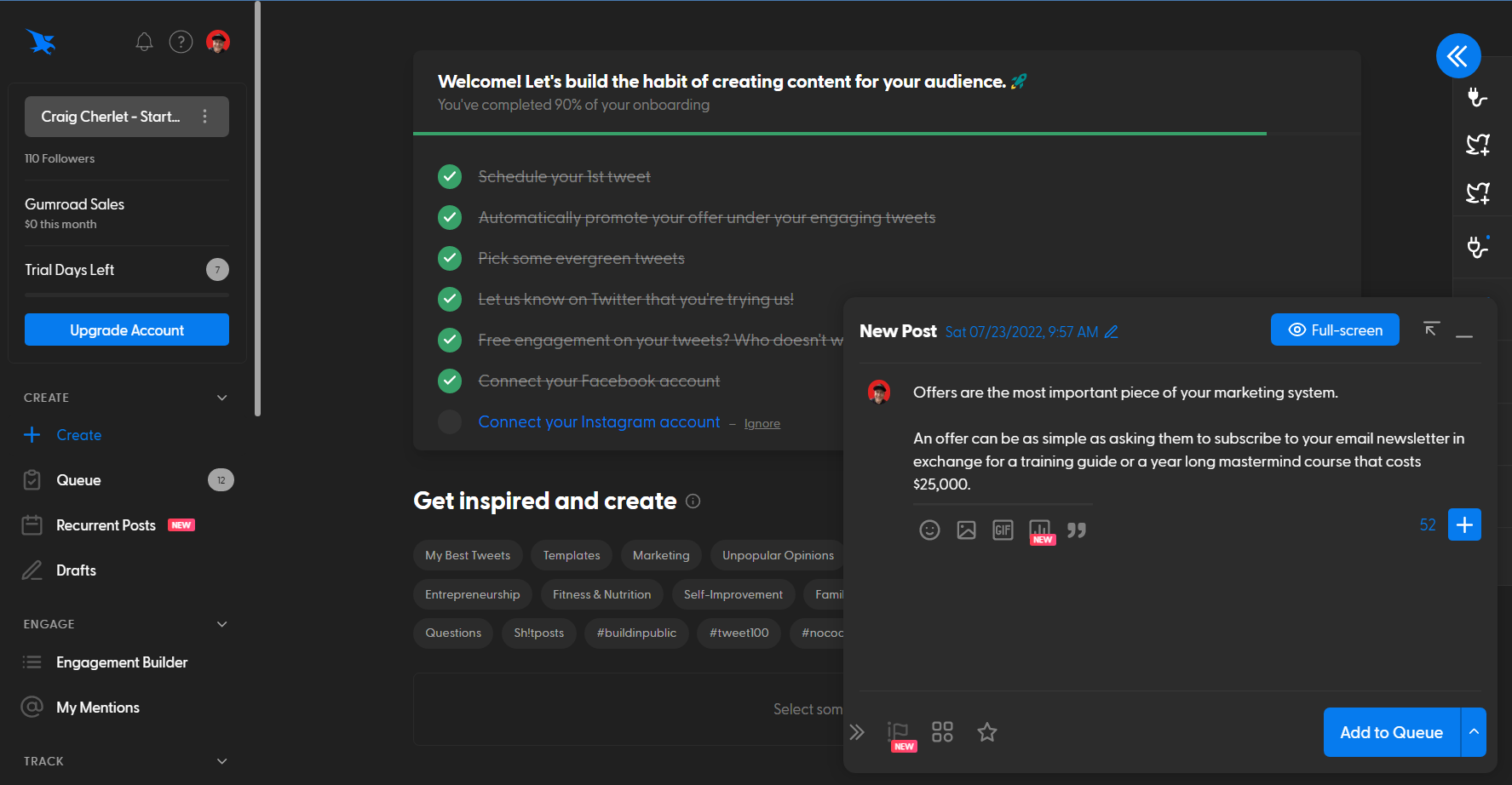 Evergreen posts
The ability to mark your tweets as "Evergreen" is a game changer. Tweets marked as evergreen automatically gets retweeted as per the schedule you set.
Evergreen posts are retweeted at most once a week, in order not to spam your timeline with the same retweets.
This is great for blog posts or any promotions. You can set them as "Recurrent posts" as per the category and Hypefury gets the job done by tweeting out those posts based on the schedule you set on recurring mode.
AI Generated Tweets
I used this tool over and over again as it was generating all kinds of great tweets.
I created and scheduled over 50 tweets in 15 minutes.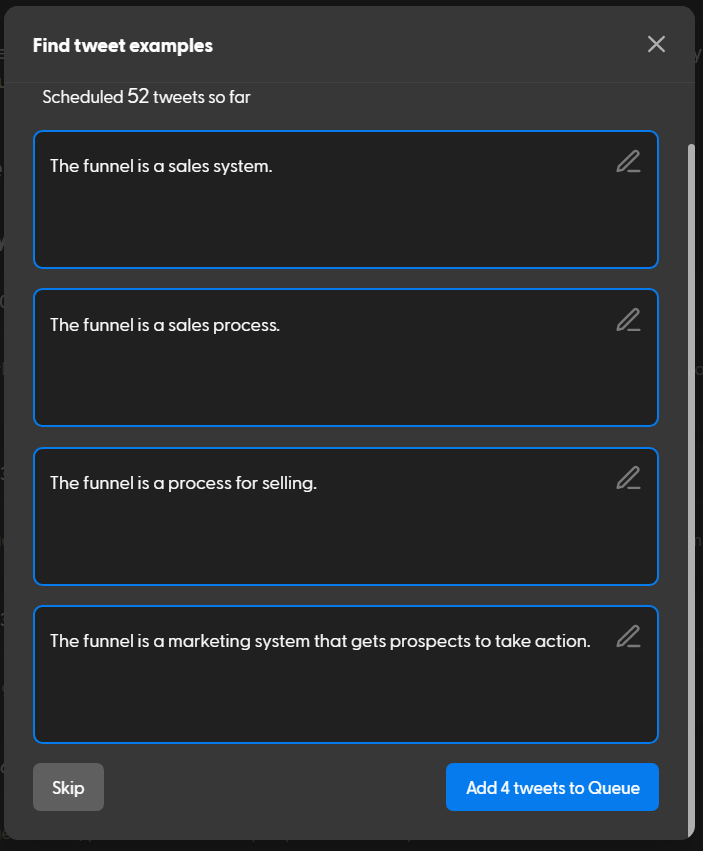 Managing Mentions
Managing mentions is simple in the Mentions tab.
All your mentions are presented and you can respond quickly from right in the app.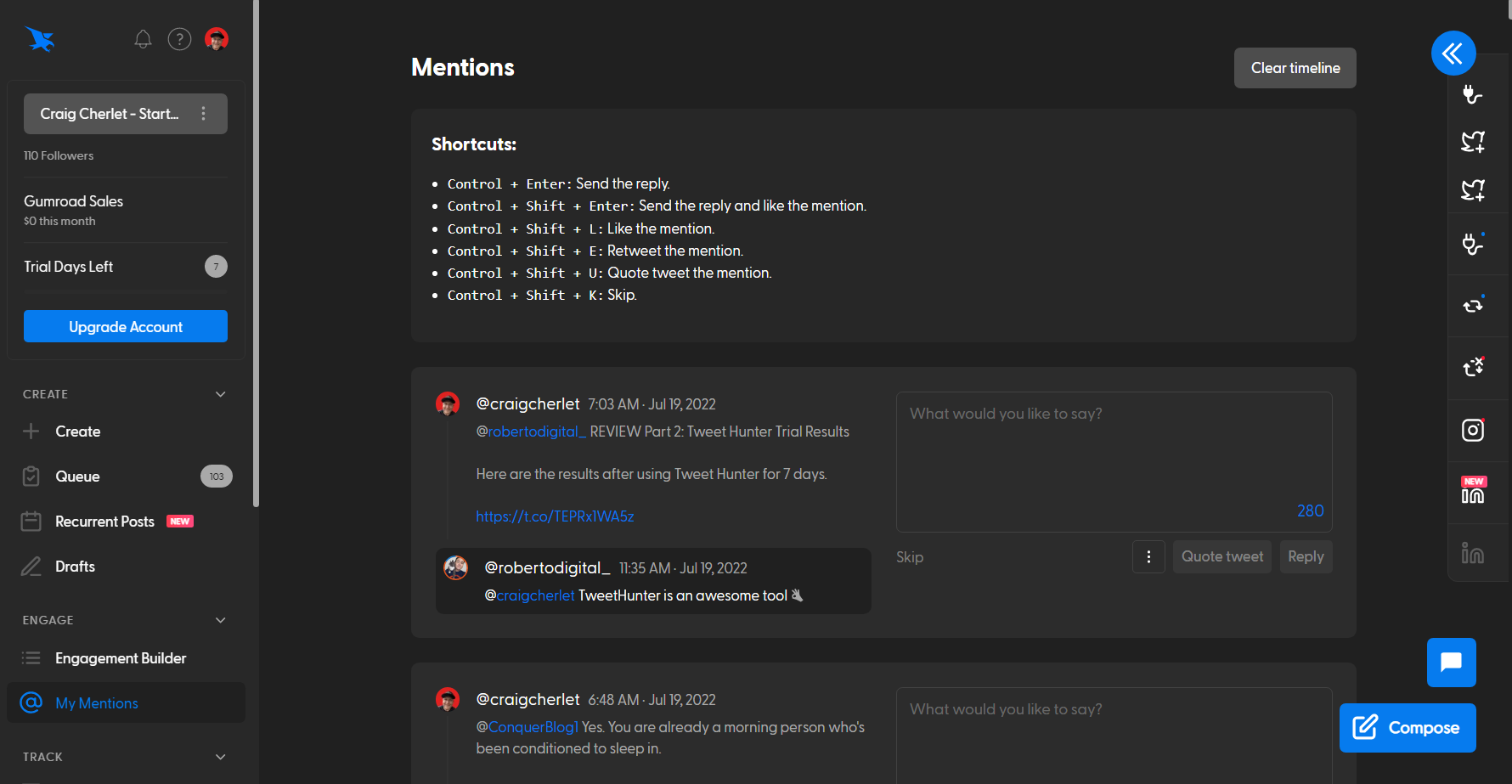 Publishing Threads
Publishing Threads is very easy using HypeFury.
I just copy and pasted a blog post, broke it up into tweets and added to the tweet queue. In just a minute or two, I created a 15 tweet thread.
10X faster than doing this using the Twitter app.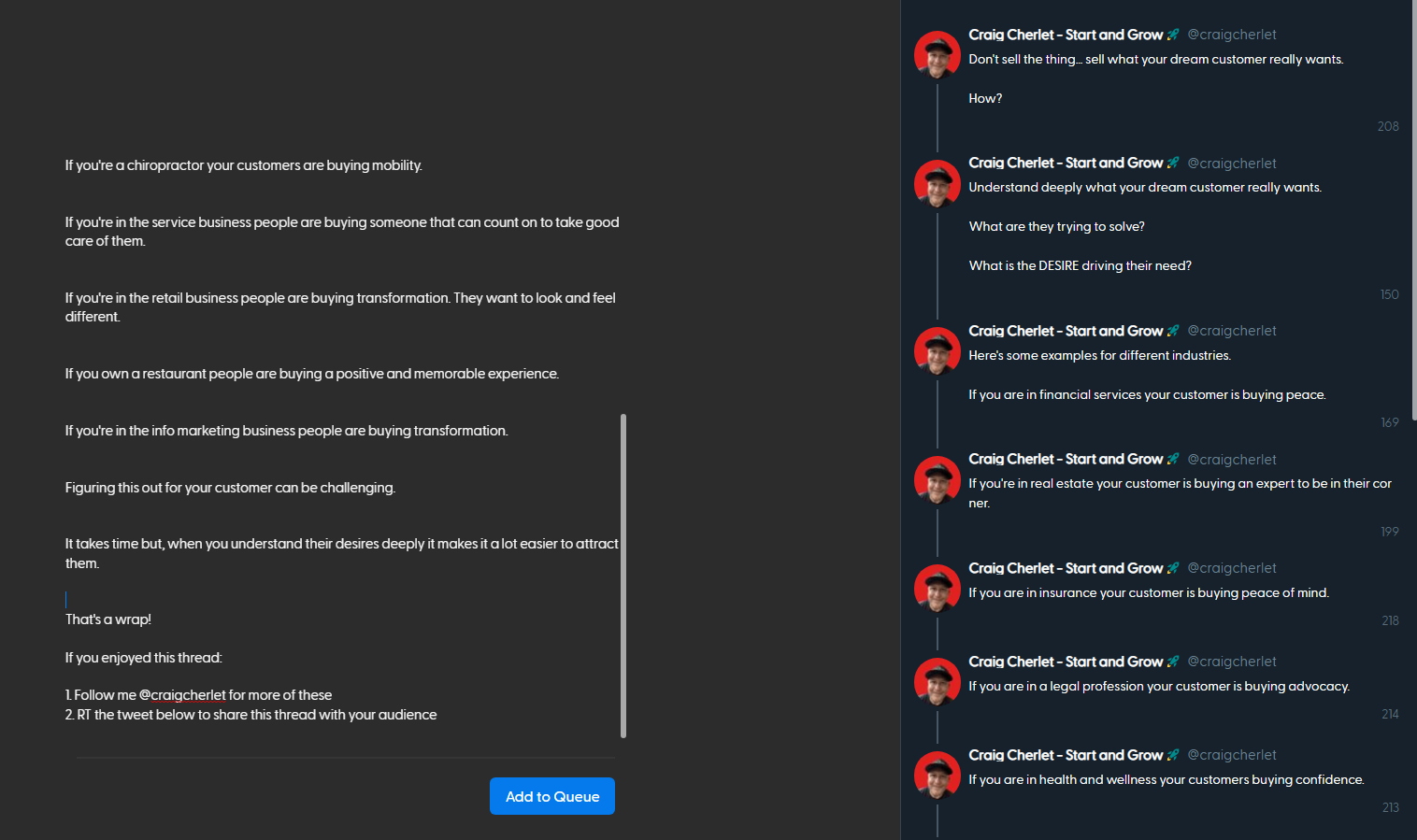 Engagement Feature
The add accounts you want to follow closely can be added to the engagement feed which brings the accounts you are watching.
Gumroad sales in HypeFury
For the Gumroad Sales feature to work, you first have to link your Gumroad account with Hypefury.
You can even add a timer to you sales so it expires when you decide?
Auto-retweeter
This feature will automatically retweet another Twitter account (e.g. company account) when it tweets through HypeFury.
Simple time saver for running a personal account and a business/brand account.
AutoPlugs
Auto Plugs are awesome. This feature allows you to set a tweet to be posted as a reply to a tweet that I posted earlier that meets criteria such as >6 likes.
Here is the Tweet I have as an Auto Plug.
Very good for engaging in tweets that get a lot of engagement.
Tweets results after 7 days.
Here are my top tweets after 7 days of using HypeFury.
HypeFury Results
I really like HypeFury. It's a very good tool for coming up with Tweets in a very fast way.
It's similar to Tweet Hunter's AI feature and works really well. Many of the AI generated tweets were really good and some even got good engagement from other.
My Tweet impressions grew significantly when doing this trial. Before using HypeFury I has less than 3500 impressions in 7 days and now I just hit 9500 for past 7 days.
My final thoughts
My final thoughts on HypeFury is that it's a really good tool for helping you craft valuable tweets for your audience using artificial intelligence technology.  
It's easy to use and provided me with hundreds of new tweets and lots of engagement.
Pros
Hypefury does a great job at providing thoughtful tweet threads, increasing engagement
Hypefury does a great job at recycling evergreen tweets to keep your queue full of tweets
They have a simple, distraction free interface helping you write rather than distracting you with features.
Option to switch from a dark to a light mode.
Useful, actionable insights and analytics.
Cons
Hashtag suggestion would be a great feature addition
Price is a bit steep but worth it if you are on Twitter everyday growing your business
I'm really excited to see where this types of technology is going and how it can really save a lot of time rather than trying to do everything manually.
If you're looking to grow your following on Twitter and increase your engagement I would definitely have a look at Hypefury.
Related Posts